A secret spot to relax and get away from the crowds! Who has not heard about this green space, will hardly find it by chance! Despite its good location in a central área (in the 3ème), this garden is tucked away on a dead-end street called Impasse Berthaud.
Inaugurated in 2007, the Jardin Anne Frank pays tribute to the German-born Jewish girl, victim of the Holocaust. Anne died at age 15 in a concentration camp, but became a symbol against intolerance when her diary was found and published after the war. The document recounts her life during the period she had lived with her family in the "Secret Annex", a hidden room at her father's company in Amsterdam, during the Nazi occupation.
Anne writes a few times about the existence of a majestic chestnut tree located in front of the Secret Annex window. A sprout of the same tree was planted by the garden's entrance and it's fortunately growing stronger year after year!
This pleasant garden is divided into three parts: the first one houses the famous chestnut tree; the second part is the central area that has existed since the 17th century and it used to belong to Hôtel de Saint-Aignan, a former mansion that houses the Museum of Art and History of Judaism nowadays; and the third part consists of a beautiful orchard!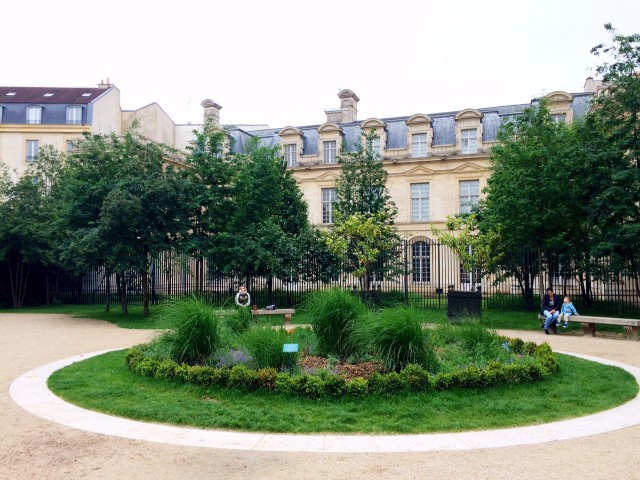 Great place for kids or for those seeking a quiet place near the vibrant Rue Beaubourg, the Jardin Anne Frank has a children's playground and some pleasant benches along the semicircular pergola at the central area, A perfect spot for resting and reading!
Tip: to explore new addresses in town I suggest you to combine a visit to Jardin Anne-Frank with two museums located a few steps away. The first one is the Doll Museum (Musée de la Poupée), adjacent to the green space, with its entrance on the Impasse Berthaud. The second attraction is on Rue du Temple, the Musée d'Art et d'Histoire du Judaïsme.
Where: Jardin Anne-Frank
Address: 14 Impasse Berthaud, 75003.
Hours: open every day – free admission.
Bisous,
Carol